Just like every area of your house, windows also require regular maintenance. But, in an old house, upkeep is not always the answer and the truth is that getting the most benefits out of your old window simply means that you need to replace it completely. But the question is how can you be able to fully decide between window replacement or window repair?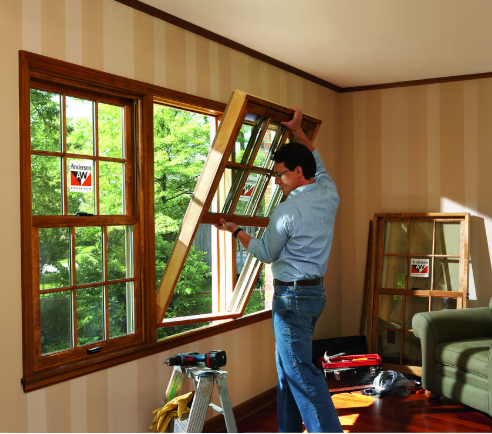 Asking yourself this few important questions might actually help you a lot and guide you in the best Direction for the Improvement of your home.
Are you feeling cool breeze passing through your windows?
If you stand close to your window at night or during the winter season, and you start to feel cold, then air is surely leaking through the seal of your window. The moment the frame of your window has broken or shrunk or they no longer close properly, then the air from your cooling and heating system can possibly escape from your house. Sometimes, this problem might be solved through installing caulking or weather stripping around the frames of your window.
Do you see cracks around your windowpane?
Small cracks in your window could become a bigger problem. This is because when the crack starts to spread, the cooled and heated air from your HVAC unit can possibly leak out. Aside from that, if you see cracks in your window pane you should have it fixed immediately as it can also pose security threats in your household. Also, if you have noticed some cracks in the window pane of your house, there are some temporary measures which can help in keeping the cracks from spreading. Unluckily, minor repair or temporary fix will not last for a long time and you should hire a professional window repair service provider to have your windowpane fixed all together or if needed, to have it replaced immediately.
Are the frames of your window look rotting and worn not?
Once the frames of your window have already began to rot, it is extremely difficult to stop. This is because wood frames eventually deteriorate when they are painted and primed incorrectly or when they are exposed to severe weather constantly, so, if you have noticed some rotten or worn-out signs in your window frames, then choosing to have it repaired by a professional window repair service provider is the best choice.
As a matter of fact, if you have noticed damages due to wearing out, then choosing between windows replacement or repair is quite simple. If there are only a few spots of rot, then you might be able to have it repaired. But, if there's an extensive sign of rotting, then it is time that you consider having a professional window replacement service provider to have your entire window replaced.
It is best that you consider hiring a professional to replace or repair your window because this is not an easy DIY task. If you don't have the right knowledge and experience in replacing or repairing windows, then you might end up causing more damage to it and eventually, you have to spend a lot of money than that of hiring a professional such as Windows Replacement Cedar Park TX to do the work.